How to pick a colour for your windows
There's little doubt that the colours we choose in our home can affect our mood, state of mind, and overall disposition. Colour is extremely versatile. It can be used to make a statement or create an atmosphere.
Is white right?
We can spend a lot of time thinking about the colour we're going to put on our walls or the colour we're going to choose for our sofa, but how much thought do we give to the colour of our windows? Here are some factors to consider when choosing your window colour:
The style of your property. A Victorian house will lend itself to different colour windows than a modern house.
The building material used for your property. Choose a colour which complements the material.
Choose a window colour that matches your front door. It really helps to tie it all together.
Consider if a colour choice would clash with your neighbours.
Dark or subdued colours can make the window frame disappear into the glass, resulting in a smooth, flat appearance.
Light shades highlight the window unit, creating a contrast.
A dark window frame on a light facade creates contrast and character, creating an eye-catching architectural feature.
A selection of our frame colours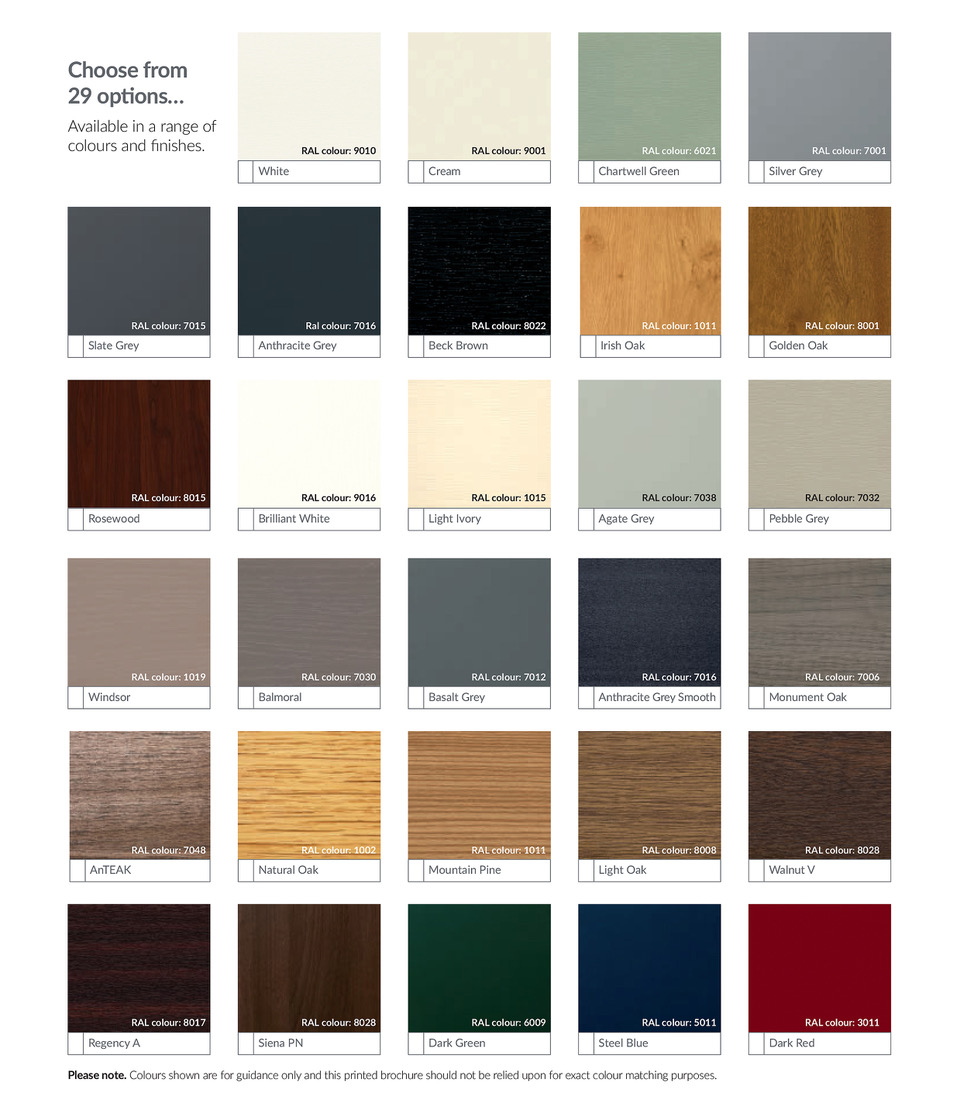 It can add value to your property
First impressions count and most buyers will decide if they like a property before they even get out of the car. It can be hard to shake off negative first impressions, so you shouldn't underestimate the role that the right windows can play. You want to inject some of your personality into your home, but future occupants should also be a consideration.
Inside and out
Don't forget that the colour you have on the outside of your windows doesn't have to be the same as the colour you have on the inside. You can match both the exterior of your property and the interior.
How E W Grace can help
Our range of uPVC windows is available in a fantastic selection of 29 colours and finishes across the VEKA range. From the timeless Brilliant White to the striking Steel Blue, there's a shade to suit everyone.
If you'd like to know more
At E W Grace, we're more than happy to suggest the styles and colours of windows we think would best suit your property and personality. As a trusted fitter, we can show you the range at our showroom.