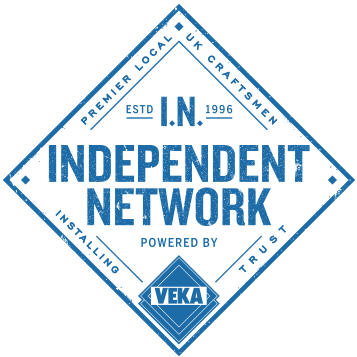 The Independent Network is an organisation of quality-assured companies who all use VEKA products and provide the highest services within the double-glazing industry. The network was founded in 1996 and since then it has become synonymous with quality craftsmanship and superior uPVC products. All members of the Independent Network are continuously monitored, and their work regularly checked to ensure that their standards have not slipped. By choosing VEKA products, members of the Independent Network have an outstanding commitment to quality and durability.
E W Grace Glass is proud to be a member of the Independent Network and we are committed to guaranteeing customer satisfaction with the highest quality VEKA products. All VEKA's windows and doors undergo a series of rigorous tests to ensure that they are perfect for withstanding the changeable British weather. As per the terms of our membership with the Independent Network, you can be assured that they will be expertly installed in your home by our highly-qualified team.
The benefits of choosing a company who is a member of the Independent Network are vast. Not only do we provide top-quality VEKA products which are designed to stand up to the weather and the test of time, we also provide some of the most technologically advanced uPVC products available today. Whether you are seeking a traditional or contemporary style for your home, you can be assured that VEKA products will enhance the look of your property. Crucially, all VEKA products are all issued with a ten-year, insurance-backed guarantee to put your mind at ease.
E W Grace Glass is honoured to display the Independent Network logo as our commitment to professionalism, value for money and complete customer satisfaction.